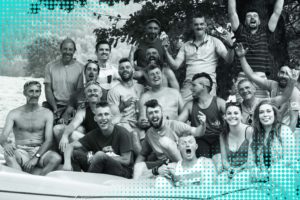 Are you a lover of sensations or do not getting wet? Discover our white waters stay with H2O, a large aquatique centre in Landry.
H2O Centre is on the banks of the best river for whitewater sports in France. The Haute-Isère provides the perfect water levels every year from May 1st to September 30th.
H2O has been working as a recognised professional company since 1991 and has been welcoming visitors to its modern eco sports centre since 2006. Facilities include private terraces for functions, restaurant, brasserie, sports, relaxation areas, washing facilities, picnic areas, hot showers, meeting room, reception, corporate area and Wi-Fi in a new innovative concept in the world of outdoor sports.
You'll have a great day out with our teams of river, canyon and mountain guides for rafting, canyoning, riverboarding, canoeing, whitewater and mountain activities.
Whether you're on your own, with a partner or the family, H2O has a package to suit you: rafting day, whitewater and mountain weekend, sports camps (with or without accommodation and meals). We have packages to suits children, teenagers, adults, seniors and all levels from beginners to advanced.
We have a full range of days out, whitewater weekends and multi-sport stays for stag parties, hen nights, student unions/groups, associations and school groups.
Bespoke programmes for groups of 6 and over.
Tél : 04 79 07 97 21
Web : en.h2o-rafting.com